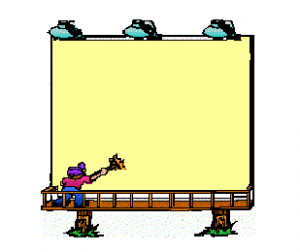 When I was in the advertising business some clients were concerned that radio is not an effective medium because there is nothing to look at.  I have talked in other posts about the strength of images produced in the listener's mind, but sometimes it can be helpful to show a product, a logo, or a store so that someone will recognize the product or dealer while out driving or in a store.
Of course, television can do this but high quality television production can be expensive.  Low quality video production does not project an image of success.  One advantage of radio is that audio-only spots can be produced at low cost that sound extremely professional, especially if one uses top voice talent and writes an engaging spot.  But then there is the problem of no pictures.  An advertiser might have spent a lot of money to create an intriguing logo and to have it displayed large at their place of business.
So what to do?  When I was doing advertising for some local small market businesses I found a perfect solution: Combine radio with outdoor advertising (ads that are popularly called "billboards"). But in order to make that combo work, one has to pay attention to ways to coordinate the two.
The idea is to produce a radio spot and air it frequently so it sticks in the mind of a listener.  That can be easy since radio time is generally quite cheap, especially in smaller markets. Then the outdoor poster (billboard) should be designed so that it recalls the radio spot in the consumer's mind when he/she sees it.
HOOK
The way to do this is to ensure there is a common "hook" in both the radio spots and the outdoor posters.  Many people still relate to the line from an old Wendy's spot, "Where's the beef?", that has not actually run for many years.  That particular line was used on national television spots because it was for a major fast food chain, but it would work well both on radio and on a "billboard" since the major thrust can be expressed in a small number of words. It is the kind of hook that sticks.
This kind of combo has to be very focused and specific to be remembered.  A generic line like "Great deals on your next new car" wouldn't cut it.  It doesn't "stick" like "Where's the beef?"
It doesn't make your car dealership seem especially unique.  Would anyone ever advertise the reverse (bad deals)?  All car dealers claim their deals are great.
To make this combination work one has to start with a dynamic script, use very capable talent for the radio voice part, and have a striking visual design for the billboard.  But the key point is to use the same simple "hook" on both the outdoor poster and on the radio.
To illustrate these points, let's create a hypothetical combo campaign.
One of the hardest local clients to advertise is a bank. That is because banks, being highly regulated, pretty much offer the same services.  A few are open longer than others or have another unusual quality, but most seem similar. These are often called parity products or services because there is little distinction inherent in the product or service.
Our goal then is not to find a unique property of the bank (a so called "unique selling proposition") but to make people think of the bank in a unique and entertaining way.  One idea would be to present the bank, humorously, from the standpoint of your money which "lives" there.  This is radio.  One can easily create a mental image that would be costly with animation for video.
So maybe you write a dialogue spot (often the most effective kind in my opinion) where we have various kinds of money talking among themselves explaining how much they love "living" in Mytown Savings Bank (or whatever). They might talk about how safe they are and how good the bank is about lending them out for worthy purposes. There are various ways this could be developed. all of course being a humorous and entertaining ad.  Honestly, how often do you see comedy used for a bank or talk about a bank in terms of the preferences of the money inside?
At the end a tag line, the one that also goes on the outdoor poster, could be something along the line of "When money talks, it recommends Mytown Savings Bank."  Then you hire a graphic artist to draw a great cartoon of money talking which also shows the logo of the bank.  Other tag lines are also possible, of course. This is just a rough concept, not a finished platform.
The key point is to keep the campaign unified.  If a print ad is used it should also feature the cartoon money and the tag, even if it also covers other things.  The same with the bank's website. (Which should also feature the radio audio.)
To the extent that each media outlet used by the bank runs a separate, non-coordinated, message, the harder it is to fix a single image of the bank in the mind of the consumer and radio listener.
Sometimes a local business is approached by various media, each of which tries to create a separate non-coordinated ad.  Obviously each media salesperson is looking just to make a sale and may not be interested in the whole picture.
To prevent this, I personally recommend that every client use an advertising agency, even if just a small one-person agency.  Even that one person can help coordinate all of the ad messages.  Truth in blogging forces me to point out that, for several years, I was part owner of an agency that served clients in three cities in the midwestern United States.  That is where I discovered the "magic" of radio+outdoor for the local client with a lower budget.