There is one compon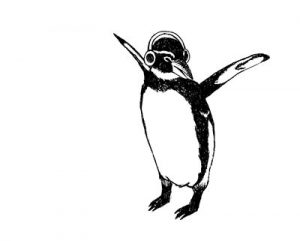 ent of good audio that is probably more important than the brand of microphones one uses, the kind of recorder, etc.  It is the acoustic space in which the recording is made.
In an earlier post I talked about the very dry environment usually used for audiobook narration, but in this post I want to discuss the characteristics of several different acoustic spaces and indicate possible uses for each.  Although The Audio Penguin blog deals mostly with audio production other than straight music recording, this is one post which can also apply to music and in which music will be referenced.
OUTDOORS
Let's start with the hardest space to use for recording: the great outdoors.  It is often not so great for recording though there are sound recordists who specialize is capturing the sounds of nature.  But one has to take into account several things:
Wind. 
If there is any kind of wind it will usually hit the diaphragm of the mic and produce an unpleasant slapping sound.  When using mics outside one usually needs quite a bit of wind protection.  This can vary from simple foam covers, for use when there is very little wind, to very expensive "blimps" used to block out more wind.  I find that sometimes one can improvise to block out wind.  If I am wearing a long trench coat I sometimes open it up and use one side of the coat as a barrier between the mic and the wind.  This works surprisingly well.
But there is another problem with wind when the sound source is not close to the microphone.  The wind can "blow away" the sound.  Sound waves are simply regular compressions of rarefactions of air molecules.  Wind also moves air molecules around.  If you stand a couple of blocks from a sports stadium (in use) on a windy day, you will quickly be aware, from the change in loudness of the sounds from the stadium, how much the wind affects sound.
Outdoor Reflections
If one stands in the middle of a large open space there will not be reflections of the sound of buildings or large objects, so the acoustics, other than the sounds of nature, will be dry or "dead."  This would be good for recording someone talking (provided the mic is close) and less good for music performance as music generally likes to be reflected back to the listener.  I have a recording of a large choral and orchestra work recorded in an outdoor sports stadium in Athens.  There are many microphones used up close to the singers and orchestra players so as to capture a full sound.  Each pair of singers share one large mic and most every instrument has its own mic (or two ),  I also have a recording of the same work done in a concert hall in Germany and clearly many fewer mics were needed.
If one is recording near large buildings, those will create some reflections (for better or worse).  I directed a film once that took place in the woods and was surprised to find that leafy trees also produced a certain amount of reverberation, most notable in scenes where the actors shouted.
INDOORS
Except for people documenting nature sounds or outdoor events, most recording takes place in some kind of indoor space.
There are three major types of concerns with indoor recording space: (1) Leakage (2) Internal reflection and absorption and (3) and phase cancellation.
Leakage
This refers to unwanted sound from outside the recording space ("studio") that gets picked up on the microphone(s).  This could be sounds of traffic and people outside if walls, windows, etc are not soundproof.  It could even be sounds from elsewhere in the same building that get into the studio area through walls, via heating ducts, or even plumbing. Lower frequency sounds are harder to keep out than higher ones, making shielding recording spaces in New York City difficult if subways run underneath.
Total isolation of a space can be expensive, but sometimes one can live with less than perfect isolation if one chooses recording times when there is not a lot of outside activity.  Also, if one is placing mics very close to the sound source then softer leakage might not be heard.  Thus one might be able to record a voice narrator speaking six inches from a microphone in a space where it might not be easy to record a string quartet with a stereo mic several feet from the players.
Internal Reflections and Absorption
When sound hits a surface in a room it can either be reflected back into the room, or absorbed (or partially absorbed) by that surface whether it is a wall, window, floor, ceiling, etc.
If a room is large reflections from surfaces are often delayed enough that they come back as early reflections if reflected from a single surface or reverberation if reflected off multiple surfaces.  In a large room this can sometimes impart a good sound to certain kinds of music (especially choral or organ works) or create, in the ears of the listener, a sense of space even with speech.  A scene from a radio drama or commercial might be set in a cathedral and lots of reverberation lets the listener sense right away that the space is large.
But in large rooms with lots of reverb, one has to be careful with intelligibility.  Listening to a long speech in a reverberant environment can be tiring.  I one attended a choral concert at Hallgrímskirkja in Reykjavik, Iceland.  The extremely long reverberation time the church had at that time (it has been treated some recently) was fine for the a-cappella choir but when the Bishop of Reykjavik got up to speak he had to speak in slow short phrases, with lots of pauses, to keep his voice from being jumbled in the reverb.
Since most people do understand how very large reverberant rooms affect sound, the real problem is something some people do not intuitively understand: the behavior of sound in small rooms.
A small room that is treated with absorption material so it is very "dead" (meaning little sound is reflected from flat surfaces) is common for voice narration as I mentioned in an earlier post.  It is not so good for most music as music like some "air."  If one records music in a dead acoustic space it is almost always necessary to add some artificial reverberation.
If an audio drama, or radio commercial in dialogue form, is recorded in a dead space it may sound artificial.  Sometimes one can add ambient sounds into the mix but sometimes that causes problems also.  Let's say a scene is set in a bowling ally.  One can add bowling ally ambience to the voices, but if they stay dry it might not sound real.  If a character is supposed to go throw a ball it would be strange if his voice did not sound farther away in the reverberant bowling ally.  So one might need to add some artificial reverb there to make the stereo "image" sound real. Or, of course, one could record in a bowling ally.
But small "live" rooms are by far a bigger problem.
 Let's say a radio documentary producer is going to interview someone named "teacher of the year" by a professional organization.  The subject says "I will be happy to do your interview, just come to my classroom after the students leave and you can record there."
Many classrooms (and similar spaces such as meeting rooms) suffer from poor acoustics.  They are small rectangular rooms usually having fairly reflective surfaces (walls, floor ceiling).  In a large space (church, auditorium, etc.) the reflections are delayed quite a bit as the sound has to travel a greater distance to a surface and back again, the the first reflections arrive quite late.  These two qualities give the sound a sense of "space."
But in most small classrooms the reflected sounds come back to the microphone quite quickly. Thus they are louder than reflections from a larger space and, when mixed with the direct sound (from speaker to mic) there are phase differences because the two sounds (direct and reflected) have traveled different distances.  This can result in some frequencies being "cancelled" in the mix and other emphasized.  This changes the timbre (tone quality) of the sound, usually in not a good way.
If one is simply recording in interview with one person in such an environment one can usually make do by placing the mic close to the subject. A mic with a limited reach, such as a dynamic mic, can be a good choice here.
But if one wants to use a stereo mic pair and record, say, a scene from a radio drama or a performance by a small vocal ensemble, the small "classroom" style acoustic will often produce a poor result.
Short of giving each performer his/her own close-up mic (and having a mixer or multitrack recorder to capture the performance) such an environment just isn't conducive to good sound, especially if one is supposed to listen a long time or release the recording to radio or CD.
Years ago when I was creative director of an advertising agency in the Midwest, there were two studios we used for recording  advertising jingles..  One was small and completely "dead." One could lay down tracks with one or two instruments (or vocals) at a time and mix them, adding simple effects (this was all analog)  as needed.  The other, more expensive, studio was used by major artists for national music recordings.  It was large.
Though the jingles recorded at both studios were successful in terms of our advertising needs, I always noticed that the jingle done in the small, dead, studio had a "boxy" sound compared to the large studio.  Acoustic space does matter!
In teaching audio production to students over many years I found that most students were very concerned about using the best (in their opinion) microphone, best recorder, etc. but they often simply ignored the recording space.  They chose inappropriate ones for their recordings.  Guitar, bass and drums will simply never sound that great if recorded in a bedroom compared to the large studio we had at the college with acoustics designed by perhaps the most famous recording studio acoustic designer in the U.S., John Storyk of the Walters-Storyk Group.
The takeaway here is that acoustic space is a very important part of good recording.  I have only touched on issues that can get very technical.  There are books out there about acoustic design that go into great detail.  If you want The Audio Penguin to post more technical details about acoustics, reply in the comments box.  We are here to serve your needs!