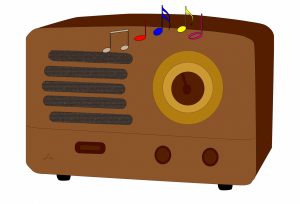 When one mentions the word "radio drama," at least to people of a certain age, they immediately talk about "old time" radio drama: thriller serials like "The Green Hornet" or "The Shadow," radio soap operas like "The Romance of Helen Trent" or "The Guiding Light," or most famously, anthology radio dramas such as Lux Radio Theatre or Mercury Radio Theatre. The latter program produced the famous "War of the Worlds" drama that caused panic among some people and really made the early career of its director and star, Orson Welles.
But, the story goes, radio drama is now dead having been replaced by television and film. The Audio Penguin responds "not so fast." Radio drama still thrives but in different ways and in different places.
To begin with, there are so many outlets these days for audio productions that the term "radio drama" has largely been replaced, especially in the United States, by the term "audio drama." That is the term I will mostly use in this blog post since it can also encompass dramas that are not specifically played on broadcast radio stations, that may be distributed as streaming or downloadable podcasts, released on CD, or even performed live on stage in front of an audience.
The magic of audio theatre, as I alluded to in an earlier post, is the pictures it produces in the head of the listener ("theatre of the mind") which can sometimes be more powerful than video images – and certainly a lot cheaper to produce.
So if audio drama is not dead, where is it?
The answer to that question has several parts.
If one is interested in the most traditional form of "radio drama," produced for radio broadcast, then perhaps the largest producer of these dramas is the British Broadcasting Company, the BBC. They literally produce hundreds of radio dramas each year. One of my favorite BBC drama programs is the anthology program "The Afternoon Play" in which a 45 minute play is produced every single weekday. And that is only a part of the BBC drama offerings. Most are produced through their Radio 4 service and some through The World Service, but all are streamed world wide at no cost to the listener through internet radio. In addition, many are available, sometimes only for a limited time, as downloadable podcasts. This permits easy access to listeners in many different time zones. Also, the BBC actually has several internet-only radio stations, some of which also broadcast audio dramas.
Other countries also do quite a bit of audio drama, especially Japan and Germany (where audio drama is called 'Hörspiel'). But the language barrier tends to restrict listenership by Americans, even though many of these are also available via the internet. If one is trying to learn a new language, and follow conversations, then listening to audio drama can be a good pedagogical tool.
But now let's turn to the United States. Commercial radio in the US has mostly adopted music and news formats. No radio dramas. Well, that is not really true also. Thousands of short ones are aired daily in the form of radio commercials. There are several forms of radio commercials – some simply a straight "pitch" read by an announcer – but one of the most effective radio spot formats is the so called "production spot" or "slice of life" commercial. These spots have characters, dialogue, sound effects, sometimes additional music etc. just like "old time" radio drama, except they are very short: 30-60 seconds in length. But they can be fun. Later in this post I will talk about teaching young students this form of radio drama and will offer some examples of spots produced in one of my classes.
Before we do that however, let's talk about other forms of audio drama in the U.S. Very engaging audio drama is produced in the U.S. for distribution channels similar to those for audio books. Indeed, as the audio book industry is expanding rapidly, some titles are even being offered as "full voiced" audio books, meaning as audio dramas. Other companies, such as Audio Comix,  ZBS Radio, SueMedia Productions, and many others, produce very high quality audio drama, some even featuring well known actors. Just don't tune in your local commercial radio station to find them though a few are aired on public radio stations. Mostly they are available online (iTunes store and other sites) and through audio CDs or MP3-CDs.
People interested in audio drama and audio books are highly encouraged to connect with the Hear Now! festival of audio fiction held each June in Kansas City, MO and put on by the National Audio Theatre Festivals. I will post more about that in early 2917. Meanwhile, one can go to their website, www.hearnowfestival.org, for more information.
Audio drama in audio education.
Although I recently retired from my full time academic post I taught many students how to write and produce audio drama, both as short 15-20 minute plays and in the context of radio advertising. Three of the 15 minutes plays were selected for live performance, with experienced actors, at the Hear Now Festival in 2013, 2014, 1016.
It is not that many of my students will go into audio drama production as a career, but many are interested in doing audio for film. Audio drama has all of the components of cinema sound: dialogue, ambient sounds to set the space, and spot sound effects (such as pouring wine, rattling dishes, etc.). The only thing is that audio drama does not have to be synced to picture, but that is good for students just learning to be film sound designers and engineers.
As for teaching students to write and produce audio commercials, not only is this good training for television sound, there is money to be made producing radio advertisements for broadcast, podcasts, etc.
I taught freshman and sophomore students radio production spots at Dutchess Community College. All of the spots were written and produced by students in the recording studio of the College. I have put up three examples below. All were recorded multi-track and mixed in the studio. None used sound effects from commercial sound effects libraries.
Although they are not quite a well done as fully professional spots, I was pleased at the overall quality for young beginners. Some readers who are in commercial radio may be surprised that one student wrote a spot for Grey Goose Vodka. It is true that very few commercial radio stations in the U.S. will accept spots for hard liquor, but again I have to point out that there are many ways audio spots can be used in podcasts and on internet sites, so I did not prevent students from choosing that product.
Finally, for these beginning students I was not worried about timing so each spot would be exactly 30 or 60 seconds. When I worked in advertising getting the timing right could be frustrating. For beginners I mostly wanted them to get the concepts and be creative. Enjoy listening.
Smartfood Popcorn:
Grey Goose Vodka:
Nissin Ramen Noodles