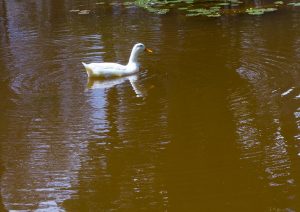 This is the second part of a two-part series (so far) on recording nature.  The first part dealt with some common technology used to record the sounds of nature.  This part highlights some recordists, most of whom I have met (and some I know well), who work in this area.
The idea of doing this came from a reader to this blog who heard a television program highlighting the work of Gordon Hempton and thought his work might make an interesting blog post.  For each artist I will describe their work and post a link to their own websites where CDs can often be purchased or files downloaded.  The order of my listings has no relationship to my opinion of their work.  I will not be posting links to artists whose work I do not like.  Also, there are many people who do this kind of work – too many to cover in any comprehensive way – so you may well know or discover others equally as worthy as the ones I highlight. I will start with the artist suggested to me by a reader.
GORDON HEMPTON
Mr. Hempton, who calls himself The Soundtracker (a registered trademark for him) specializes almost exclusively in recording natural sounds.  His website is a treasure trove of mp3 downloads for sale, books (both PDF and printed) and even a video you can purchase as a DVD. The sound files offer online preview clips and there is a nice trailer for his video on his site (scroll down to the bottom of the home page).
He has produced over 60 CDs of nature sounds and has won many awards, including an Emmy award, and coverage in major media. Besides being an acoustic ecologist of nature he has provided audio services major film studios, media organizations, and corporations and is a sought after speaker.
He has two books listed on his website:
Earth is a Solar Powered Jukebox is a PDF book available for $9.95.  The website describes it as
"A complete guide to listening, recording, and sound designing with nature. Gordon Hempton, The Sound Tracker®, covers both science and art as we learn about how sound behaves in natural habitats and how this knowledge can be skillfully applied to produce award winning field recordings and compelling sound designs."  This is a great book for someone just getting into nature sound recording and listening.
Also available is One Square Inch of Silence: One Man's Quest to Preserve Quiet, written by Mr. Hempton in collaboration with John Grossmann.  It is available as a trade paperback and as an eBook.  Complete details are on the Soundtracker website. This is a kind of travel diary of Hempton's quest to find spaces that have only natural sounds, completely devoid of sound created by modern man.  This is harder than it might sound but his adventure is good reading.  He tries to record natural environments without any sound of cars, airplanes, machinery, etc.
In the first half of this post about nature sounds I discussed binaural recording and Gordon Hempton sometimes makes use of a dummy head to achieve a natural sound.  That means one will get the best reproduction using headphones or crosstalk cancelled speakers.  I notice too, that in the video at least, he is using the same recorder your Audio Penguin generally chooses for this kind of work, a rugged model made by Sound Devices.
JIM METZNER
https://www.pulseplanet.com AND http://jimmetznerproductions.com/audio-portfolio
Jim Metzner lives fairly near me in the Hudson River Valley (about 70 miles north of New York City).  I first met him when he rang me up to see if I could help him assemble contact microphones following instructions he found in a magazine.  I did assist and we have remained good friends since.
Jim is known to radio listeners from his daily two-minute radio program "Pulse of the Planet," heard on a great many radio stations, public and commercial.  The program has been running now for about 30 years.  The website describes it as "a daily radio series and podcast which tracks the rhythms of nature, culture and science."  The scope of the program, and of his work, in much broader than nature recording alone, though a great many of the programs do feature the sound of nature and natural processes.
On the Pulse of the Planet website one can search for stations carrying the show or listen to the current daily show, and others.  There is an online store where one can buy CDs and/or digital downloads of his work.
Jim was trained at Yale University, and like Bernie Krause and others, started in music.  He performed opening acts for many famous pop stars including Pink Floyd, Three Dog Night, Free, T Rex, Tina Turner, and Tom Rush, among others.  But he had a strong interest in ethnomusicology which got him into field recordings of indigenous cultures, nature and science.  His work has earned scores of major awards and he has been a speaker and teacher in many venues.
His website notes "Jim has received major grants from the National Science Foundation, NASA, and the National Endowment for the Humanities. His work has been featured in Wired Magazine, the New York Times, Audio Magazine, National Geographic magazine, the Wall Street Journal, the CBS Evening News and NBC's The Today Show. His most recent project is an NSF funded nationwide competition for third to sixth graders, The Kids' Science Challenge™."
Pulse of the Planet also maintains a blog on Facebook. I encourage readers to "like" it.
CHRIS WATSON
chriswatson.net
Chris Watson is a European based artist who has created a career as a freelance recordist of nature.  He has sound files, both mp3 and uncompressed FLAC files, available for purchase as well as CD and even vinyl.  One has to search the site for complete information since some of his work is sold by Touchshop, part of Touch Music, and some free downloads he lists seem now unavailable.  But, on another page of his site, there are a number of BBC radio programs that are available for free.  So it is worth doing a bit of digging as there are wonderful pieces to be heard there.
Mr. Watson's online biography describes his work this way. "Chris Watson is one of the world's leading recorders of wildlife and natural phenomena, and for Touch he edits his field recordings into a filmic narrative. For example, the unearthly groaning of ice in an Icelandic glacier is a classic example of, in Watson's words, putting a microphone where you can't put your ears."
Chris Watson gives courses in nature recording and his home page features a camp style course to be given in May, 2018, in France.  One session is already sold out so one should register right away to get a seat at the second session, which appears to start 16 May 2918.  It is a five day session.  Full board is only $1495 which seems like a good bargain.  The camp expects to feature many different nature sound techniques including various stereo methods, surround sound, and experiments with contact mics, parabolic mics, and hydrophones.  [Part 1 of this Audio Penguin post explains all those technologies.]  There will also be experiments with different methods of presentation of the recorded sounds.  More information on the camp can be found at https://www.campfr.com/course/3.
Again, there is too much to summarize properly in this post so I encourage the reader to visit Mr. Watson's websites.
BERNIE KRAUSE
https://www.wildsanctuary.com
I became aware of Bernie Krause about 1970 when I received a copy of "In a Wild Sanctuary" by the duo, Beaver and Krause.  It featured music, in a rather "new age" vein, performed using Moog synthesizers (along with a few other instruments) but also included nature recordings of birds, monkeys, the sea, San Francisco Cable car sounds, etc.  The inclusion of natural sounds kept the record from being as banal as one sometimes associates with "new age" musical forms and, at that time, I was also very interested in the then-new Moog Synth having already used one in a local recording studio to create sound beds for TV public service announcements promoting the school where I taught (Creighton University). Another innovative aspect of "In a Wild Sanctuary" was that it was one of the first albums available in quad-stereo surround sound.
Paul Beaver and Bernie Krause introduced the Moog synthesizer to a number of major pop music groups.  Adding nature sounds was also highly innovative at that time: A real "first."  It was great music to play when I had girlfriends over for dinner.  It was accessible to those who generally found my classical and avant garde music tastes a bit off-putting, yet innovative enough to be interesting.  I still have the original vinyl record.  Beaver and Krause earlier produced a part-documentary recording "The Nonesuch Guide to Electronic Music," which was also a major addition to my record library.
Unfortunately, Paul Beaver died in 1975 at age 49.  Bernie Krause produced a couple of other albums but then started devoting his whole career to nature sounds, even earning a PhD degree in bioacoustics from Union Institute & the University of Cincinnati.  His collection now features many thousands of sounds recorded around the world.  Some have been used in museums, films, etc. and many are available for purchase as digital download albums (mostly mp3) from his website.
He has also produced several books and audiobooks, his newest printed book being The Great Animal Orchestra: Finding the Origins of Music in the World's Wild Places.
Almost all of his current work features nature sounds alone, though in 2014 he did collaborate with Richard Blackford, former Balliol College Oxford Composter-in-Residence to create "The Great Animal Orchestra: Symphony for Orchestra and Wild Soundscapes," It was performed by the BBC National Orchestra of Wales and conducted by Martyn Brabbins. So finally years after "In a Wild Sanctuary" he produced another album combining nature sounds with music.
HILDEGARD WESTERKAMP
https://www.sfu.ca/~westerka/index.html
Hildegard Westerkamp emigrated to Canada from Germany in the late 1960s.  She lives in Vancouver.  I first met her in 1998 at a conference in Sweden, — along with a key mentor of hers, R. Murray Shaffer — and recently reconnected with her in the Azores at the conference, Invisible Places '17 where she gave a keynote address on her 71st Birthday. (Cake and celebration followed.)
She met R. Murray Schafer at Simon Fraser University and worked with him as a research associate on the World Soundscape Project.  Schafer is a composer who became very interested in natural sounds and coined the term "soundscapes" to describe them. The World Soundscape project, in its own words, was designed "to find solutions for an ecologically balanced soundscape where the relationship between the human community and its sonic environment is in harmony."  This work led to publications including The Book of Noise (in 1968) and The Tuning of the World (in 1977).  The Tuning of the World was truly a seminal work that really generated interest in soundscapes from Westerkamp and many of the other sound artists described in this post.  Shafer himself, though a real acoustic ecologist in terms of his influence and philosophies, has continued to compose classical music for most of his life.  Unfortunately, he was diagnosed with Alzheimer's disease in the summer of 2016 though that didn't prevent him from writing a string quartet, "Alzheimer Masterpiece," in 2016.
Shafter influenced generations of soundscape collectors and artists including, of course, Hildegard Westerkamp.  After working with Shafer Westerkamp went on to have her own radio program in Vancouver where she explored the recording, processing and mixing of natural sounds.
Being influenced by such composers as the late Pauline Oliveros, John Cage and others, she created works for instruments, taped sounds and, later, sound installations.  But she is perhaps best known, at least to me, as a soundscape collector and producer.  In Sweden I gave a talk about my own approach to sound design, emphasizing the creative process, and she came up to me later and said something like "You should not just focus on being a composer, but should also work at becoming an acoustic ecologist."  This was good advice as it did get me interested in recording and preserving natural sounds, not just using them for compositional content (though I still do that also as well).  At IP-17 her keynote talk focused on the importance of listening and included many sounds she had captured on sound walks throughout her career.
When we talked at Invisible Places '17 she mentioned that she is especially interested in sound compositions that stand alone by themselves, rather than being works for "tape" plus live flute or whatever.  This is a philosophy which I support whole heartedly. Music recorded or created in electronic form should not have to be "legitimized" by having a performer on stage adding to it.
When the printed proceedings of Invisible Places '17 are published, I encourage readers of this blog to read Hildegard Westerkamp's keynote talk.  She is a remarkable sound ecologist and soundscape composer.
ADDITIONAL COMMENTS
Most of the producers mentioned in this blog have a great interest in silence.  I do not mean the kind of silence one experiences in, say, an anechoic chamber, but rather the sounds, many of them very soft, of nature unpolluted by industrial and transportation sounds.
Gordon Hempton, especially, has written about the difficulty of finding a truly quiet place free of man-made sounds, even in places such as the arctic (where airplanes fly over regularly).  But the other artists, such as Jim Metzner, Hildegard Westerkamp, Bernie Krause etc. have experienced the same difficulty.  When I talked with R. Murray Schafer a World Forum for Acoustic Ecology conference in Sweden he mentioned that he had purchased a house far away from most city noise as he sought quietness in his life.
There are so many sound artists and acoustic ecologists and theorists that I feel I cannot do proper justice to the field.  Many younger sound artists and scholars presented at Invisible Places '17 so I encourage people to read the proceedings when they become available (probably by June, 2017).
However, I do want to give a final shout out to one young artist who played a major role at Invisible Places '17.  That is Maile Colbert (http://www.mailecolbert.com/) who had several important duties at IP '17 and is certainly an up and coming sound artist and scholar.  She is an American who has been living in Lisbon, Portugal, for the past seven years.  Right after IP-17 she came to NYC where she gave a three-day workshop at Union Docs in Brooklyn about using natural sounds to score documentary films. The final evening included a public presentation of the work of her students, which I attended.  I mention this because she said she expects to do similar work at Union Docs again in Fall 2017.  People living in the Northeast US might want to attend. Check the schedules at uniondocs.org.
My apologies to the many other great scholars and artists who I didn't have time to include.  But keep visiting theaudiopengun.com for new information about this and other audio topics.