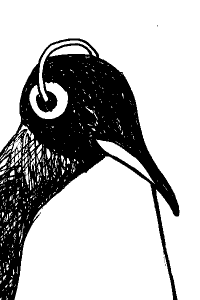 This blog is a personal history, for me, of headphones.  But it is more than my personal story, it is a story of the role of headphones in society.
CHILDHOOD
As a child I was given a pair of headphones.  I think they came as part of a do-it-yourself crystal radio kit (though the kit and headphones may have been purchased separately).  The crystal set could have been something out of the 1920s or 1930s, complete with a "cat's whisker" which one used to find the best part of the crystal for reception.
The headphones could have been out of a WWII movie of a radio operator.  Heavy, black, functional, though not really comfortable.  Obviously not "high fidelity" but that was not a concern of mine at that age. They were made of a hard black material, perhaps bakelite or hard rubber, much like the material used in standard telephones.  One could unscrew the ear cover and remove the metal diaphragm and see the coil and magnet underneath.  It helped me to understand, as a small child, how a transducer could convert an electrical signal into sound. I later learned that one could use a headphone as a kind of crude dynamic microphone, again adding to my knowledge of audio electronics.
They served me well as I got a bit older and started making simple radios with a one-transistor amplifier stage.  No cat's whisker by this time but still pretty much a crystal radio (with a diode and "loopstick" antenna) feeding a simple amplifier.  Transistors were new and mostly expensive, but there was one "hobbiest" model, the Raytheon CK722, that cost $0.99 – about $5 in today's money. I could not have afforded more expensive models at that age.  I used that in all my circuits.
One advantage of having a radio that required headphones was that I could listen in bed when I was supposed to be sleeping.  A loudspeaker would have alerted my parents that I was listening past my bedtime.
The military style headphones were not comfortable for long listening sessions but they seemed "technical" — something that a nerdy youngster would want.  But I never would have gone out in public wearing them,
GRADE SCHOOL EXPERIENCE
I happed to attend a neighborhood elementary school in Lansing, Michigan, that actually had two sections.  One was a normal elementary school – the section I attended – but the other was a magnet school for kids with various disabilities (except blindness as the famed Michigan School for the Blind, which Steve Wonder attended, was nearby.)
I felt most sorry for the hearing impaired students I met.  Though some were learning to lip read others had to wear an old fashioned hearing aid.  These pre-solid-state devices were small boxes strapped to the student and, you guessed it, ugly military-style headphones over their head, just like the headphones I used for my electronic experiments. A real nerdy look.  These same kind of black headphones were what all students had to wear once per year when it was time for hearing tests.
Of course, these ungainly headphones were also used by amateur radio operators, short-wave buffs (such as me), radio station engineers, etc.  But nobody would wear one socially at school or on a date. Way too nerdy (also uncomfortable).
THE HI-FI HEADPHONE
Starting in 1958 Koss brought out headphones designed for home music listening.  Although the first model was based on military headphone technology, they ultimately were designed for high quality listening, especially to the then-new technology of stereo records and stereo open reel tapes.  These were over-the-ear and quite comfortable, perfect for private listening in a home or dorm room.
In 1979 Sony introduced the Walkman, an audio cassette player that came with headphones.  The phones were much smaller than the Koss phones and were used by people travelling, especially on planes and waiting in an airport.  I eventually owned one but I almost never used it in public.  I still had visions of the hard-of-hearing students in my elementary school and figured that many people would think I was using a hearing aid.
About 1980 the running craze hit the U.S. and I was caught up in it. I wanted to listen to music while running but was self-conscious about wearing headphones in public.
THE EARBUD
The hearing aid industry took to solid state technology in a attempt to make hearing aids that were less conspicuous.  Years before an entire hearing aid could be built into an earbud, earbuds were used with small hearing aids designed not to be too noticeable.  There were even hearing aids built into the rather large bows of special eyeglasses.  Eleanor Roosevelt wore those in her later life.
The earbuds caught the attention of users of the Sony Walkman, and of the tiny radios that followed.  I was thrilled when my wife bought me a Sony FM Walkman as a gift.  By this time all of us using these products in public tended to use earbuds as they were far less conspicuous and on-ear or over-the ear headphones. As these devices because more popular there was less and less concern that they would be mistaken for hearing aids. Indeed, ear buds became smaller and smaller and the sound quality became better and better (if one paid enough for a really good pair).
By the time tiny digital music players, such as the Apple iPod, came out and cellular phones were introduced that could store and play music, wearing earbuds in public was no cause for concern.  They were cool and popular.  It showed you were hip to the newest technology.
THEN SOMETHING HAPPENED
When I was teaching in the State University of New York system in the late 1980s every student who had a music player wore earbuds.  Some had to be reminded to remove them during class (often accompanied by serious grumbling on the part of the student).
Then I gradually noticed that some students wore headphones, usually smallish on-ear ones, rather than earbuds.  At first I assumed these were people, like myself, who found earbuds uncomfortable or who had trouble keeping them in their ears while moving around.
But the use of headphones gradually increased as did the size of the phones themselves.  Students were bragging that they bought Beats by Dr. Dre over-the-ear headphones that cost $150 or more. Then students started showing up with colorful and highly decorated headphones.  Suddenly using headphones was a cool fashion statement.  No cause for concern in social settings.
I use lots of headphones as a sound designer and tonmeister.  I own at least 10 pears from low cost ones for running to very high end ones for audio editing.  I even have a pair of Extreme Isolation headphones – headphones built into the ear protection worn by workers near jet airplane engines – which allow me to hear the actual sound of my recording even when sitting near the musicians in a live concert.
Wireless blue-tooth headphones permit the wearer to walk around a room without tripping on cables. Of course, many people still use tiny in-ear earbuds, and people who do need hearing assistance can buy, at considerable cost, tiny, almost invisible earbuds, that contain the entire hearing had. (Kind of like contact lens wearers who don't want people to notice eye glasses.)
All of this is good, in my opinion, and headphone/earbud use will probably grow as listening tends to become more personal.  People tend less to go home and fire up a large music system, but may be just as apt to put on headphones plugged into a personal music player. The quality of personal music, players and headphones, has also gotten quite good (if one pays enough).
We have come a long way from the crude military-style headphones of my youth.  I am very pleased that there is no longer social stigma attached to wearing headphones in public.  When I travel I am very fond is my Sennheiser noise cancelling headphones.
Now . . . back to my music.